Making It Mine Photo & Video Contest
03/14/2023
By: My Services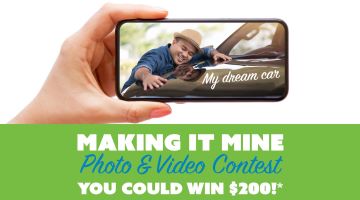 YOU NOW HAVE UNTIL SUNDAY, APRIL 16 TO ENTER!
Welcome to My Pensacola Credit Union's 2023 Making It Mine Photo & Video Contest: The contest that asks you to show us how your life has been positively affected by your membership with My Pensacola CU.
Whether you have just started your relationship with us, or you have been with us through the years with a variety of products and services, we would like to know how My Pensacola CU has helped you make your life your way – helped "Make It Mine".
Did My Pensacola CU make a special trip possible with our Visa credit card offerings? Did we help you get your dream car with an auto loan or perhaps your dream backyard with a Home Equity loan? However My Pensacola CU has helped improve your life, we would love for you to share your story, pictures and/or videos with us. Oh, and did we mention you could win $200?!*
Click on the 'Contest Details' button to learn everything you need to know. Then when you're ready, submit your entry by clicking on the 'Submit Entry' button or by emailing [email protected] by the extended deadline date of Sunday, April 16, 2023.
View all posts